GFWC North Pinellas Woman's Club Gave Away Nearly 3500 Free Books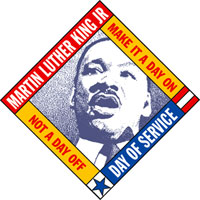 To commemorate Dr. Martin Luther King Jr's birthday month, the GFWC North Pinellas Woman's Club and GFWC St Petersburg Junior Woman's Club distributed almost 3500 personally curated books across St. Petersburg throughout January. "Books Across St. Petersburg", a joint project to promote literacy equality in St. Petersburg, culminated with a book giveaway at the Family Fun Day at Tropicana Field on January 21, 2019.
The two woman's clubs received a 2019 MLK Day of Service Award from St. Petersburg College. The award is granted to select local organizations that will host a variety of service projects in honor of MLK Day of Service. More than 50 club volunteers, in conjunction with community partners provided at-risk residents, including toddlers, homeless, and elderly with hand-selected books.
"Our goal is to give vulnerable children, teens, adults and seniors access to books on topics of interest to them, thus encouraging reading and working to create literacy equality for everyone," said Laura Connelly, President, GFWC North Pinellas Woman's Club. "Literacy and education unlock the door of freedom. By promoting access to more reading materials, we can help open that door. We believe this is a powerful way to honor Dr. King's legacy."
The free books were distributed at six locations across St. Petersburg during the month of January, including Ronald McDonald House, two R'Club Childcare Centers, Family Promise of Pinellas County, The Sunshine Senior Center and a Habitat for Humanity neighborhood.
The book giveaway at the Family Fun Day immediately followsed the MLK National Parade, the nation's longest-running parade honoring MLK. Family Fun Day featuresd a kid's zone, entertainment, an education drive, a host of day of service programs and more.
According to the US Department of Education, one in five adults in Pinellas County functions at a low literacy level- third grade or below. The city of St. Petersburg is home to some of the most vulnerable, including teen parents and families living below the poverty level. Children are also a critical part of this vulnerable population. The purpose of "Books Across St. Petersburg" is to support these at-risk residents of all ages, offering them free books to promote reading, increase their literacy rates and improve their overall wellbeing.
Each year, on the third Monday in January, the MLK Day of Service is observed across the United States as a "day on, not a day off."
MLK Day of Service is intended to empower individuals, strengthen communities, bridge barriers, create solutions to social problems, and move us closer to Dr. King's vision of a "Beloved Community."
"Books Across St Petersburg" is made possible by a service award from the MLK Day of Service Project.