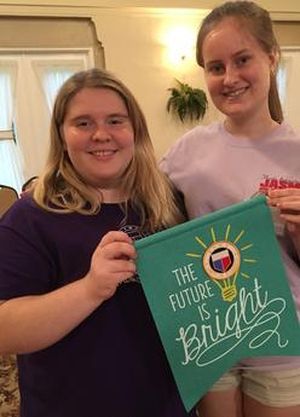 GFWC Pinellas Juniorettes
Juniorette Clubs are composed of young women in middle or high school ranging from 12 to 18 years old, who work together to meet the needs of their communities through volunteer service projects.
GFWC North Pinellas Woman's Club sponsors a Juniorette club. The members are intelligent, energetic, enthusiastic, talented, and motivated young adults committed to community service and to self-development. This group is concerned about the issues facing themselves, their families, their communities, as well as the world in which they live. By sponsoring them, we're offering the perfect opportunity for them to learn, to grow, and giving them a chance to put their ideas into action.
As the youngest members of GFWC Florida Federation of Women's Clubs, the girls learn how to organize and operate their non-profit clubs with rewarding results, and many use their service hours towards scholarships and National Honor Society credits.
Organized in 1991 by the GFWC Clearwater Junior Woman's Club, GFWC North Pinellas Woman's Club has assisted the GFWC Pinellas Juniorettes in sharpening their leadership skills and harnessing their commitment to work on projects that benefit children, families, and the community.
For questions and additional information, contact us!
The program offers fun, friendship, and community service. Each club has its own personality and determines what is most needed in its home community. All share GFWC Community Service guidelines offering activities in:
Arts
Conservation
Education
Home Life
International Outreach
Public Issues