GFWC NORTH PINELLAS WOMAN'S CLUB CELEBRATES 16th ANNIVERSARY
City of Dunedin To Proclaim July 20 as GFWC North Pinellas Woman's Club Day
July 12, 2019 DUNEDIN, FL – The City of Dunedin will proclaim July 20 as GFWC North Pinellas Woman's Club (NPWC) Day at the club's 16th anniversary celebration on July 20 at the Dunedin Golf Club. Commissioner Jeff Gow will present the proclamation to Laura Connelly, NPWC president.
The first GFWC North Pinellas Woman's Club meeting was held July 9, 2003 when 27 women voted to become official and join the General Federation of Women's Clubs. Today, GFWC North Pinellas Woman's Club is one of the fastest growing in Florida, boasting 175 members who work tirelessly to positively impact our community through an impressive array of hands-on service projects. In any given week, volunteers are preparing dinner for homeless at Peace Café in Clearwater, sewing blankets for kids in foster care, cleaning the Pinellas Trail, greeting veterans on Honor Flights, educating our teens on dating and healthy relationships, and collecting and distributing children's books to new Habitat for Humanity homeowners, after-school programs, and foster care agencies.
In the past six years, members volunteered over 140,000 hours, contributed nearly $350,000 of in-kind donations, and donated over $120,000 for local grants and scholarships. For its overall record in enhancing the community through service projects, the club has received the Outstanding GFWC Florida Club award seven years.
"GFWC North Pinellas Woman's Club is so pleased to be honored in this way by the City of Dunedin," said Laura Connelly, president. "We are grateful for the opportunity to partner with the City to serve the residents of Dunedin and Pinellas County."
About the GFWC North Pinellas Woman's Club
GFWC North Pinellas Woman's Club is an all-volunteer, non-profit 501(c)(3) organization united in our passion to positively impact lives in Pinellas County. Members are very active in a variety of community improvement projects and strive to address all aspects of the community, including foster children, the homeless, school systems, civic duties and social responsibilities, and environmental issues. Visit our website www.gfwcnpwc.org to see to see the impact we've made.
About the General Federation of Women's Clubs
The General Federation of Women's Clubs is a unifying force, bringing together local women's clubs, with members dedicated to strengthening their communities and enhancing the lives of others through volunteer service. With over 10,000 members in Florida and over 80,000 members worldwide, GFWC members are community leaders who work locally to create global change by supporting the arts, preserving natural resources, advancing education, promoting healthy lifestyles, encouraging civic involvement, and working toward world peace and understanding.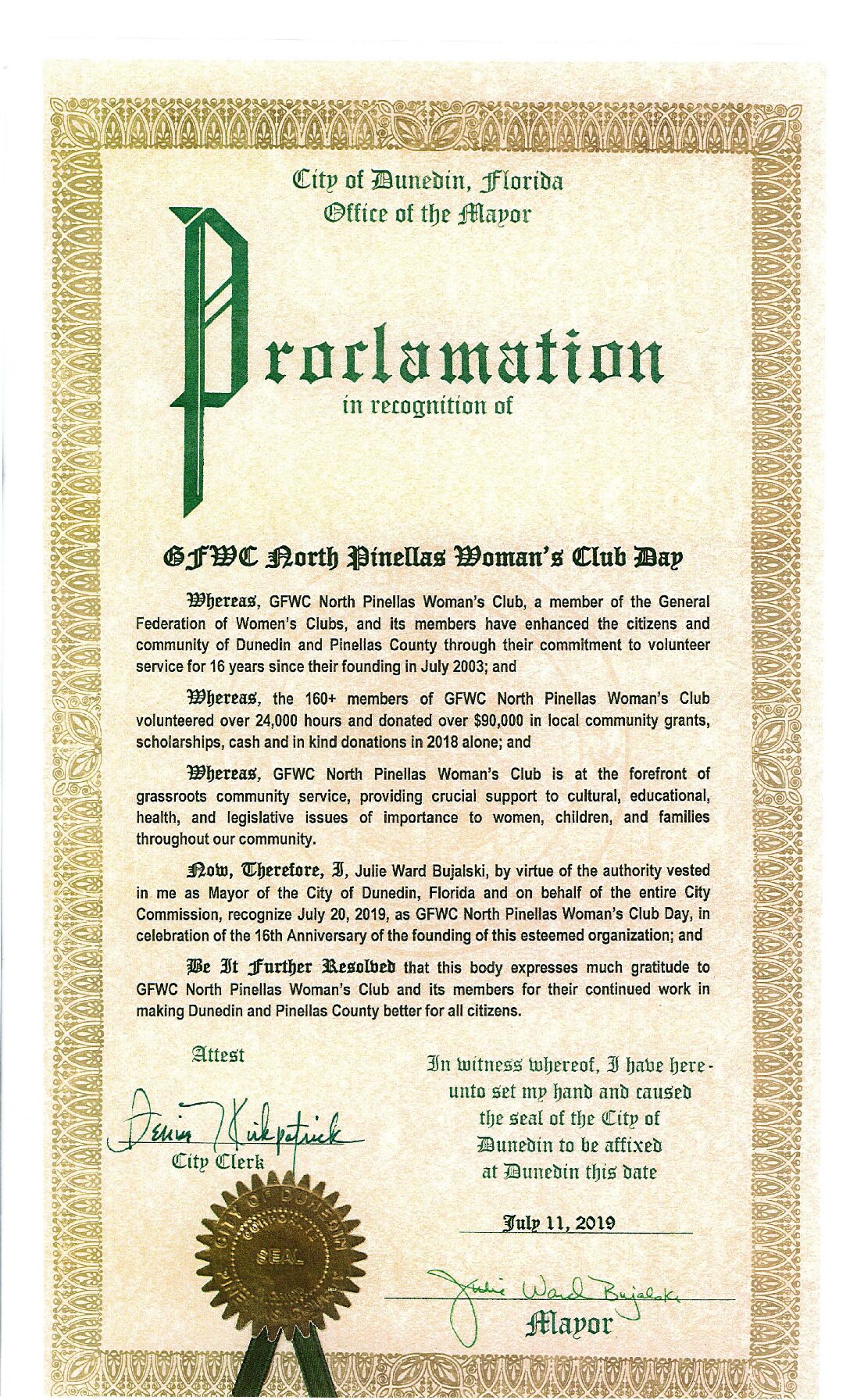 Press Release: GFWC North Pinellas Woman's Club To Receive Proclamation on Club Anniversary