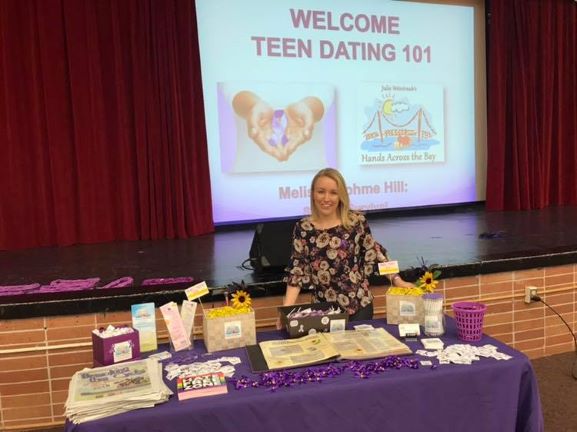 GFWC North Pinellas Woman's Club 
Domestic Violence Survivor Melissa Dohme Hill Featured Speaker at GFWC North Woman's Club February 19th Meeting  
February is Teen Dating Violence Awareness Month
FEBRUARY 7, 2019 – Clearwater, Florida   February is Teen Dating Violence Month, an annual national event enacted in 2010 to elevate awareness about the increasing epidemic of dating violence and to educate, empower and prevent abuse before it starts.
In partnership with Hands Across the Bay (http://handsacrossthebay.org/), the GFWC North Pinellas Woman's Club is proud to feature national speaker and local domestic violence survivor Melissa Dohme Hill at its February 19, 2019 meeting, 6:00 pm, Safety Harbor Library, 101 2nd. Street. The meeting is open to the public.  
Melissa is a survivor of a brutal stabbing in Clearwater in 2012, where she was stabbed 32 times after leaving her abusive and jealous high school ex-boyfriend. According to the Domestic Violence Awareness Project, approximately 1.5 million high school students in the United States experience physical abuse from a dating partner. 
In light of these alarming statistics, in 2006, the GFWC North Pinellas Woman's Club launched its signature Teen Dating 101 program at Countryside High School, Clearwater. The powerful program engages students in identifying the signs of abuse and generates conversations about healthy relationships. In its 13th year, Teen Dating 101 is now also in Dunedin and East Lake High schools and is expanding. To date, over 7500 students have participated in the program.
"In partnership with Hands Across the Bay, our club offers high schools in our community a compelling program to educate our kids about dating violence," said Laura Connelly, President, GFWC North Pinellas Woman's Club. "Silence is part of what allows this epidemic to continue. Melissa sharing her remarkable story of survival and having conversations with students who may be at risk lie at the core of our Teen Dating 101 program. We have received many letters from our schools and parents expressing their gratitude for 'saving their child'". 
Backgrounder: Melissa Dohme Hill
Facebook: https://www.facebook.com/melissadohme/
National News Coverage Highlights:
https://www.cbsnews.com/pictures/melissa-dohmes-brutal-attack-and-incredible-recovery/6/
https://people.com/human-interest/domestic-abuse-survivor-marries-first-responder-who-saved-her-life/
About the GFWC North Pinellas Woman's Club
GFWC North Pinellas Woman's Club is an all-volunteer, non-profit 501(c)(3) organization united in our passion to positively impact lives in Pinellas County. Members are very active in a variety of community improvement projects and strive to address all aspects of the community, including foster children, the homeless, school systems, civic duties and social responsibilities, and environmental issues.  Visit our website www.gfwcnpwc.org to see to see the impact we've made. 
About the General Federation of Women's Clubs
The General Federation of Women's Clubs is a unifying force, bringing together local women's clubs, with members dedicated to strengthening their communities and enhancing the lives of others through volunteer service. With over 10,000 members in Florida and over 90,000 members worldwide, GFWC members are community leaders who work locally to create global change by supporting the arts, preserving natural resources, advancing education, promoting healthy lifestyles, encouraging civic involvement, and working toward world peace and understanding.                                  
### 
Press Release: Domestic Violence Survivor Melissa Dohme Hill Featured Speaker at GFWC North Pinellas Woman's Club February 19th Meeting